Bachelor of Science in Nursing (BSN) Program
Format: In person on the Statesboro Campus or the Armstrong Campus in Savannah
Credit Hours: 124
You always knew you wanted to heal people. To be an advocate for their quality of life. To you, patient care means trust, compassion and leadership just as much as administering medicine and monitoring vitals.
Get ready for your calling.
Georgia Southern University's Bachelor of Science in Nursing (BSN) program will prepare you to be on the front line of the health profession with our hands-on approach. Our top academic education, paired with a heavy emphasis state-of-the-art simulation labs and clinical experience in area hospitals with real patients, will make sure you're prepared day one — before you even put on your graduation robe. You'll get the academics AND the know-how.
Ready to Apply?
Loading…
Or, you can:
BSN Program Highlights
Study topics including professional nursing practice, health assessment, pharmacology, nursing care across the lifespan, research and leadership and more
Become eligible for the National Council of State Boards of Nursing Licensure Examination for Registered Nurses (NCLEX-RN) upon graduation
Benefit from individual academic and career advising from dedicated nursing advisors
Experience cutting-edge, high-fidelity simulation labs
Develop your skills in communication, healthcare technology, leadership, health policy, professional roles and more
Accelerated BSN program also available for students with a bachelor's degree in another field
Accreditation
The baccalaureate degree program in nursing/master's degree program in nursing/Doctor of Nursing Practice program and/or post-graduate APRN certificate program at Georgia Southern University is accredited by the Commission on Collegiate Nursing Education.
All prelicensure programs are fully approved by the Georgia Board of Nursing. Georgia Southern University is accredited with the Southern Association of Colleges and Schools.
Nursing Careers Information
The U.S. Bureau of Labor Statistics reported in 2022 the average salary for registered nurses was $82,750 – bls.gov
Did You Know? Georgia Southern is a top 10 producer of nurses for the US Army
BSN Program Rankings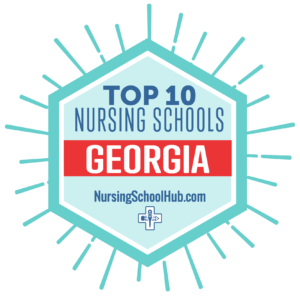 BSN Program Outcomes
Synthesize core knowledge from the liberal arts, sciences, and nursing as the foundation for professional practice.
Use knowledge of organizational systems, leadership principles, and resources in becoming responsible, safe, and accountable professional nurses.
Apply scholarship, inquiry, and analysis of current evidence to clinical judgment to improve individual and population health care outcomes.
Incorporate healthcare information and technology to enhance clinical decision making in professional practice.
Integrate knowledge of health care policy, finance, and regulatory environments into professional practice.
Utilize inter-professional communication to develop collaborative partnerships for improving patient health outcomes.
Apply a health promotion, disease and injury prevention framework to the care of individuals and populations.
Demonstrate the professional standards of moral, ethical, and legal conduct as well as assume accountability for personal and professional behavior.
Application Deadlines
| | |
| --- | --- |
| Fall Admission | Applications are open from January 1- February 8 |
| Spring Admission | Applications are open from August 1-September 8 |
BSN Program Admissions Requirements
Admission to Georgia Southern
Minimum 3.0 overall GPA
Successful completion of 54 credits hours in core courses
Achievement of grade "C" or higher in areas A, D and F core courses
Area F courses must be completed within the last 5 years
Satisfactory HESI Admission Assessment (A2) Test scores
School of Nursing BSN application
Undergraduate transcripts
Admissions Requirements Full Details
All applicants must apply for admission to both the university and the School of Nursing. Admission to the university does not guarantee admission to the School of Nursing. Requirements for admission to the university and additional information may be found in the University General Catalog.
Applications for admission to the university are obtained from the Office of Admissions.
Admission Criteria
Admission to the Bachelor of Science in Nursing degree program is competitive and is based on requirements in place at the time of application to the BSN program. In order to be considered for the BSN program for the fall/spring admission cycle, applicants must have met the following admission criteria:
Admission to Georgia Southern University. All transfer credits must be evaluated by the Registrar's office and posted on the Georgia Southern transcript upon official acceptance to the University
Must be able to meet the Core Performance Standards
A minimum overall GPA of 3.0
Must achieve a cumulative score of at least 75% on the HESI Admission Assessment (A2) Exam that includes the following subject areas: Anatomy & Physiology, Grammar, Math, Reading Comprehension, Vocabulary and General Knowledge, within the last year.
Successful completion of 54 semester hours in appropriate core courses prior to admission
A grade of C or higher is required for Core Areas A, D, and F courses
Completed 12 hours of the 20 hours of required lab science coursework with a minimum grade of "C" in both the lab and didactic portions of each course
Sciences in Area F must have been completed within the past 5 years and with a grade of C or higher
Repeating more than one course (didactic) or repeating one course (didactic) more than once in Areas A or D or F (thus 2 failures in one area) to earn a passing grade of C or better, makes the student ineligible for admission. For the post Baccalaureate student, this applies to area F.
Students admitted to the nursing major must maintain a minimum overall 3.0 GPA and a minimum grade of "C" in all area A, D and F courses prior to beginning the first nursing course
Students with outstanding admission requirements must provide proof of meeting the requirements to the School secretary before the beginning of the admitted semester. Failure to do so will result in denial of admission
Complete the School of Nursing BSN application
*Students please take note: KINS 2533 Pathophysiology is listed as an Area F course which is required to be completed or in progress at the time of application/acceptance.
Complete List of Application Materials:
Complete the online BSN application
Upload official copy of your HESI A2 Exams
Upload an unofficial copy of your college and/or university transcript of all courses taken
Meeting minimum requirements does not guarantee admission to the nursing major. Those applicants who present the strongest application based on admission criteria will be accepted.
Transfer Student Information
Transfer applicants, and applicants with degrees in other disciplines, must meet the criteria for admission to the nursing major. Credit for transfer courses will be granted if course equivalency is determined. Faculty make course equivalency decisions based on a review of materials provided by the transfer student including course syllabi, a course description and content outline.
Transcripts are evaluated by the Office of Admissions after you apply and have been accepted as a student at Georgia Southern University.
In order to be advised, you must be admitted to the University and attend a session of Southern's Orientation, Advisement and Registration (SOAR).
Please review the materials on the School of Nursing website nursing/programs, specifically the BSN program map.
You can use the Transfer Equivalency Tool to see how courses from your current institution equate to Georgia Southern courses.
Requirements Prior to Enrollment in Nursing Courses
Maintained a minimum cumulative GPA of 3.0
Earned a grade of "C" or better in Area A, D, and F courses
Meet School of Nursing clinical course requirements, including: (a) health history and physical examination; (b) essential performance standards for nursing practice; (c) immunization requirements including measles, rubella, varicella, hepatitis B, Tdap, and seasonal flu; (d) tuberculosis screening; (e) current BLS for Healthcare Providers certification; and (g) personal health insurance
Participated in a School of Nursing orientation session
*These requirements are subject to revisions.
Please call 912-344-2585 on Georgia Southern University Armstrong Campus or 912-478-5242 on the Georgia Southern University Statesboro Campus if you have questions or need additional information.
Application Deadlines
| | |
| --- | --- |
| Fall Admission | Applications are open from January 1- February 8 |
| Spring Admission | Applications are open from August 1-September 8 |
Tuition and Fees
Tuition and Fees charged by Georgia Southern University are approved by the University System of Georgia annually. Changes in tuition and fee rates are typically effective fall semester each year. The tuition and fees listed on the links below provide an estimate of tuition, fees, housing, meals, books and supplies.
All courses for the nursing program must be completed within a total of three consecutive calendar years. All prelicensure nursing students are required to take two standardized exit examinations.
For more information download the student handbook.
Professional License Disclosure
The School of Nursing anticipates that graduates of this program will seek the following professional state licenses: Professional Registered Nurse (RN)
For required disclosures on whether this program satisfies the license requirements of all states and territories for Registered Nurse license, click https://www.ncsbn.org/nursing-regulation/licensure/nurse-licensure-guidance.page to check the requirements of your state or territory.
The School of Nursing has determined that the required classes and educational activities of this academic program will qualify a graduate of this program to take the exam for a Registered Nurse license in the 50 U.S. states, District of Columbia, and four U.S. territories: American Samoa, Guam, Northern Mariana Islands and the Virgin Islands.
The School of Nursing has not determined whether the required classes and educational activities of this academic program will qualify a graduate of this program to take the exam for a Registered Nurse license (or certificate) for any state not set forth above.
Related Programs
Last updated: 5/18/2023